This kit includes the items described below:
1 satellite dish + 1 microphone + 1 handle
1 parabolic reflector
1 helmet
1 portable recorder
(stand not supplied)
Presentation photos: see the slideshow above
Jama warranty: 1 year
1. La parabole avec microphone HiSound Stéréo (capteur AOM5024L) - DODOTRONIC :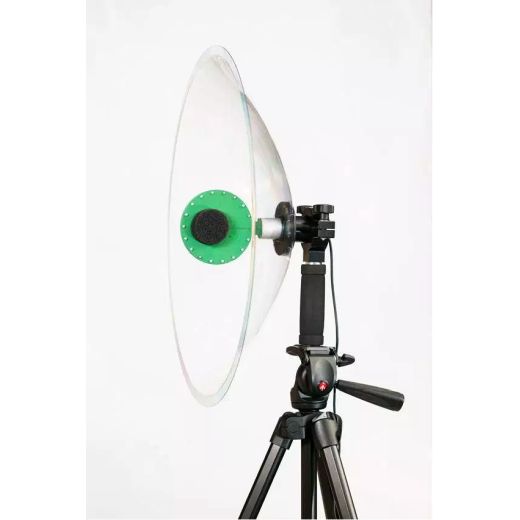 Ce microphone parabolique peut capter les sons avec une séparation stéréo, le signal est acheminé dans un seul connecteur mini jack stéréo 3,5 mm.
L'effet stéréo est obtenu par la séparation des canaux obtenue en plaçant un disque séparateur (déflecteur) entre deux paires de microphones, positionnés sur les canaux gauche et droit avec deux capsules pour chaque canal. Le plat est composé de deux circuits avec bouclier supérieur et inférieur; le même écran est étroitement connecté à la terre des quatre capsules afin de minimiser l'immunité aux interférences externes.
CAPTEUR AOM-5024L :
Une seule capsule de ce nouveau capteur donne les mêmes performances que deux EM172. La présence d'une seule capsule au lieu de deux pour chaque canal permet une meilleure focalisation au centre de la parabole. De plus, le coût de ce capteur est inférieur à celui de l'EM172.
Par rapport au PZM traditionnel, l'amélioration la plus importante en stéréo HiSound consiste à placer la capsule sur le même plan que le déflecteur et non dans le sens opposé. Cette configuration peut ajouter un gain de signal supplémentaire de +6 dB sans influer sur la réponse en haute fréquence.
CARACTÉRISTIQUES :
Diamètre extérieur : 53 cm
Sensibilité de 22 dB en moyenne.
Profondeur de mise au point : 12,5 mm
Poids pour 1 mm : 270 g
Poids total pour 1 mm : 755 g
Matériau PETG
Plage audio (100Hz - 20KHz)
Capteur: 2 x AOM-5024L de PUI Audio http://www.puiaudio.com/
Bruit propre seulement 14 db
Connecteur: mini jack 3,5 mm doré
PIP (plug in play) dans l'enregistreur requise.
Fabrication italienne
Non fourni : le trépied
2. Le pare-vent :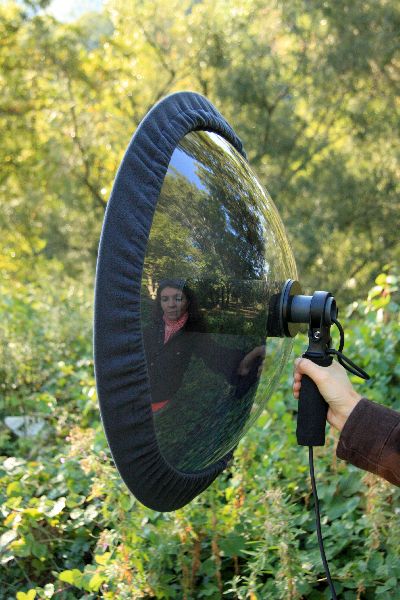 Le constructeur propose ce pare-vent léger et efficace.
3. Le casque d'écoute :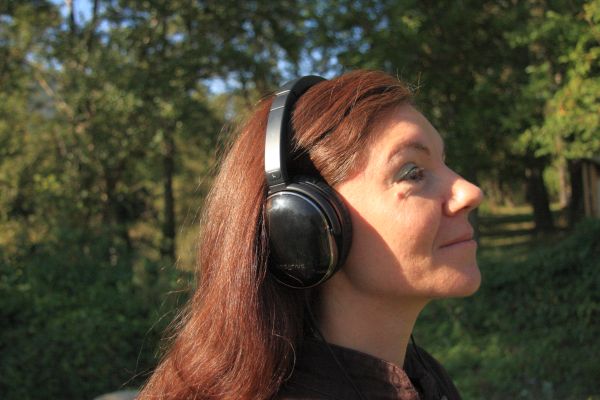 Grâce à une conception ergonomique pour les oreilles, le casque d'écoute peut s'adapter naturellement à l'angle de toutes les formes d'oreilles, sans comprimer l'oreille.
Bookmark and SharePoids : 250.00 g
Remarque : Photos non contractuelles. Cet article peut être échangé avec un casque d'une autre marque ayant les mêmes caractéristiques.
4. L'enregistreur portable - ZOOM H2N :
(Vidéo de présentation : en anglais)
Le H2n Handy Recorder est le seul appareil d'enregistrement portable doté de cinq microphones intégrés et de quatre modes d'enregistrement différents: X / Y, Mid-Side, Surround 2 canaux et Surround 4 canaux.
D'autres fonctionnalités avancées incluent le contrôle automatique du gain et le décodage MS embarqué, ainsi que des effets tels que la compression, la limitation et le filtrage bas niveau. Vous pouvez même utiliser le H2n comme un microphone USB polyvalent!
Cinq microphones, 4 façons d'enregistrer :
Le H2n est équipé de pas un, ni deux, mais bien cinq microphones intégrés. Deux d'entre eux sont disposés en paire X/Y, tandis que les trois autres sont agencés dans une configuration MS (« Mid-Side »). Vous pouvez les utiliser séparément pour un enregistrement stéréo X/Y ou MS, ou ensemble pour créer un magnifique son ambiophonique à 2 ou 4 canaux.
Mid-Side pour une ampleur stéréo variable :
L'enregistrement Mid-Side est une technique incroyable qui vous permet de réellement faire varier l'ampleur de l'image stéréo après l'enregistrement, tout en conservant une parfaite compatibilité mono, ce qui s'avère particulièrement utile pour les projets de cinéma, vidéo et télévision.
Les trois éléments de microphone MS du H2n sont superposés. L'un pointe vers l'avant et les deux autres vers les côtés
Remarque : pour transférer les fichiers enregistrés de l'enregistreur vers votre ordinateur il faut utiliser la carte SD (non fournie). Il n'y a donc pas besoin de câble USB.
----------------------------------
INFORMATIONS : Chiff-Chaff/Jama se réservent le droit de modifier les produits du site internet sans préavis, en fonction de l'évolution des produits du fournisseur. Les prix sont garantis dans la limite des stocks disponibles. Photos et indications non contractuelles. Reproduction interdite. Suggestion de présentation.